How to choose kid's rain boots? - DRIPDROP Boots
Before buying a pair of boots you have to pay attention to:
PVC and Rubber are both durable, waterproof, comfortable, and easy to wear. PVC is more lightweight and the colors cannot be faded, unlike rubber boots. You can read more in our article.
The material of the outsole has to be
- durable,
- flexible for better walking and running,
- ribbed to make the boots non-slip.
Polyester and cotton are two soft and moisture-absorbent materials. They can help to save feet warm and dry.
Pay attention to the toe of the boot, it should have enough space for socks.
The heel should be tight and firm to keep the foot in the correct position and prevent deformation of the boot.
This is an important point too. In Dripdropboots store you find rain boots in any color and style. Your kid will be happy to wear bright-colored shoes.
To make a measurement the child puts the foot on a piece of paper then the foot should be outlined with a pencil. The distance from the edge of the big toe to the center of the heel is measured. And then according to this measurement, you can make a decision by looking at the size chart.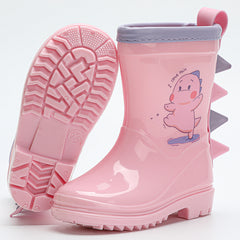 About DRIPDROP Boots
DRIPDROP is a brand of high-quality and fashionable rain boots, raincoats, and children's shoes. We have created products that are able to save you from the weather and keep your good mood on rainy days.
We are proud of the quality of our shoes. Each item represents the inspiration by childhood and the simple beauty of life.


Shop for rain boots made from PVC or rubber for the whole family at www.dripdropboots.com