What material is used for shoe sole? - DRIPDROP Boots
Usually, in order to produce our rain boots and shoes for kids, we use the following kinds of materials: rubber, EVA, and PVC.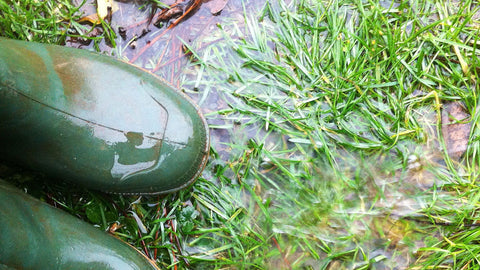 Rubber.
Great material for the outsole because of its features like anti-slip, protection on the wet floor or muddy road, provide good traction. You can keep walking in confidence, whatever winter weather conditions stand in your way. The outsole made of rubber is not lightweight, but comfortable for the foot. This kind of outsole provides long-lasting, and usually the boots with such type of materials last 5 years. The rubber outsole can be any color, any shape, and with any protectors.
These are all advantages of the rubber outsole. As for weaknesses, the rubber outsole is more expensive than the others. This outsole better not to wear in cold winter otherwise you can catch a cold if wear such type of shoes all day outside.
EVA.
We use this material for making clogs for kids.
The outsole made of EVA is lightweight. Extremely well providing good traction on the wet surfaces. The outsole gradually takes the shape of the foot for added comfort.
Disadvantages: this material is not used in winter or fall shoes. The EVA outsole is not long-lasting, it is necessary to change the clogs every season.
PVC.
Our brand has slippers for kids, which completely made of PVC. This material as a sole provides great abrasion resistance, in comparison with EVA soles, and also not bad slip-resistance (we additionally have made more protectors on the sole to be sure that the slippers are exactly non-slip on the wet floor).
Usually, one of the disadvantages of PVC sole is named poor ventilation but we bear you that this is not a big problem for this type a kid's shoes as slippers.
About DRIPDROP Boots
DRIPDROP is a brand of high-quality and fashionable rain boots, raincoats, and children's shoes. We have created products that are able to save you from the weather and keep your good mood in the rainy days.
We are proud of the quality of our shoes. Each item represents the inspiration by childhood and simple beauty of life.

Shop for rain boots made from PVC or rubber for the whole family at www.dripdropboots.com